Roll over or click image to zoom in
Olivia Keycaps Set
Not included 2u shift key !!!
【Double Shot PBT keycaps】These Olivia keycaps are molded from two layers of plastic, Made of Thick PBT material, delicate and high-quality touch, sensitive buttons, comfortable hand feeling,Using double shot process, the font is clear and which will never fade or chip off.
【Keycaps Design】These Olivia keycaps The ergonomic arc design and the layout of high and low keys are suitable for manual tapping. The appearance of the keycap is designed Exquisite Olivia colors,These Olivia keycaps are very elegant in appearance and are a good choice for you to make a mechanical keyboard yourself.
【High Quality Keycaps】The keycaps are made of 1.5mm thick PBT,This keycap uses a frosted process, and the surface of each keycap has a slightly grainy feel. The material fits the fingers better and is more comfortable to use.The double shot injection PBT provides you with a durable finish and no shiny grime buildup with continuous use.
【Wide compatibility of keycaps】The keycap Consists of 160pcs Cherry Profile PBT Keycaps, Standard ANSI layout, suitablefor 95% of 61/87/104/108 mechanical and optical keyboards, as well as any key switches with cross-shaped shafts, ideal for custom mechanical keyboards select.
【Warm Tips】Keycaps only, The keyboard in the picture is only for the demo and is not for sale.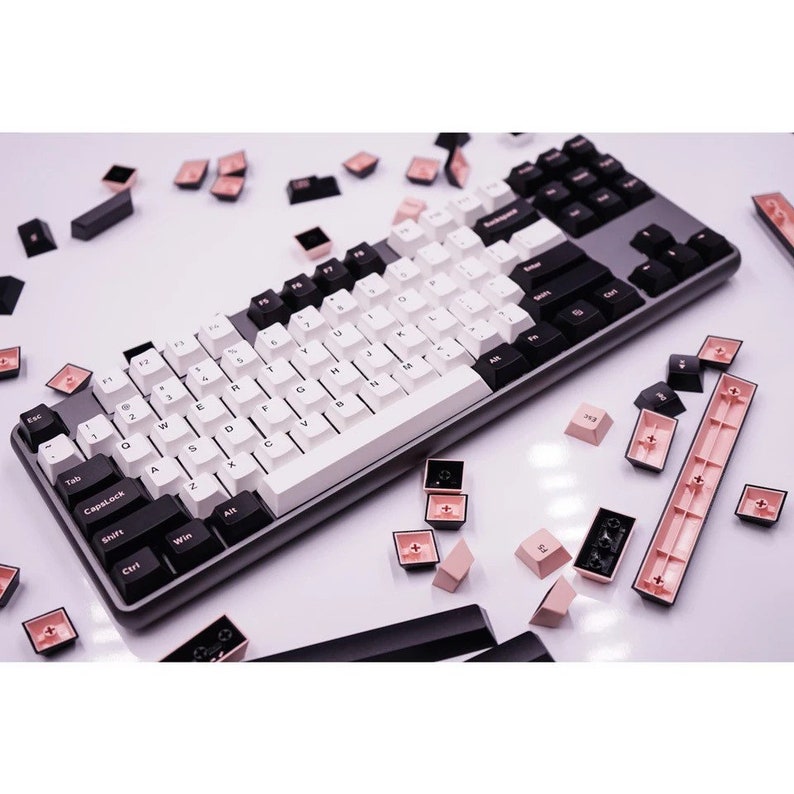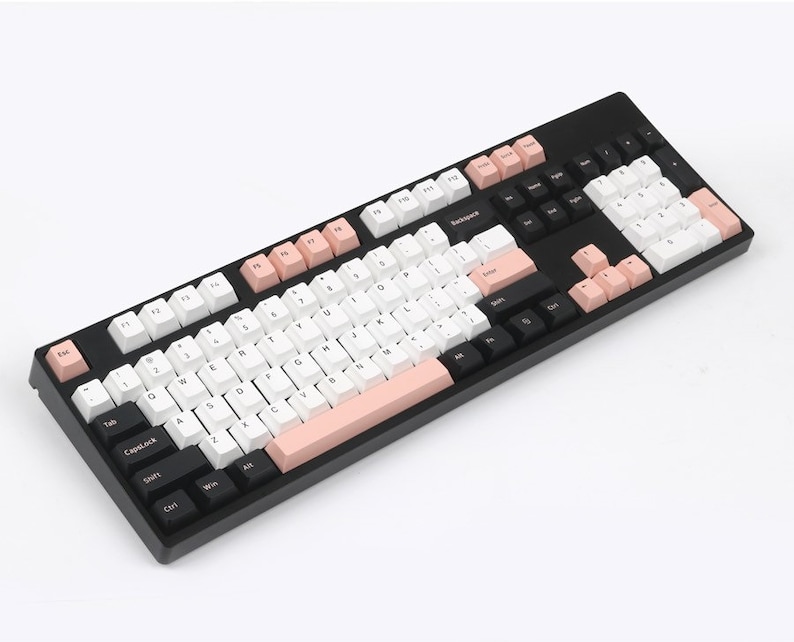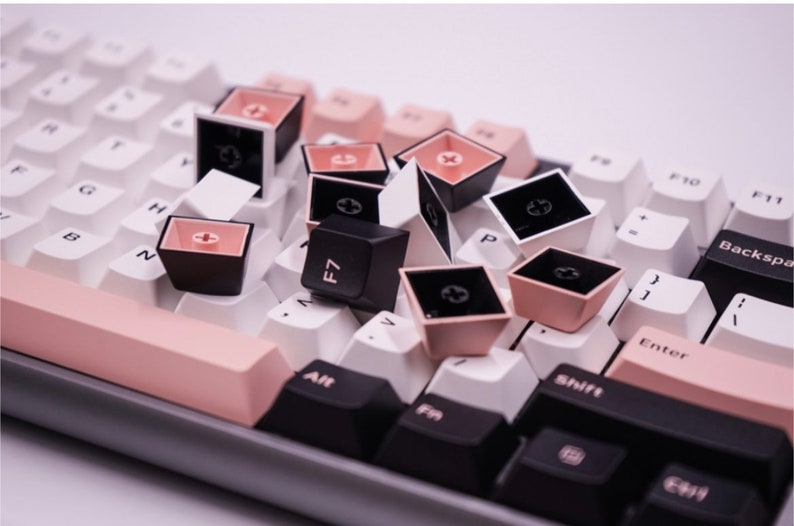 Need wholesale? Consult customer service
Estimate Shipping Time
Free shipping within 2kg.(Except for some products and group purchase products.)

Diykeycap offer worldwide shipping, for the countries that have not listed below, please contact us for the specific time if you need by online chat botton.

Support Time: GMT +8, 9 AM - 9 PM
| | | |
| --- | --- | --- |
|  Country / Region | Time | Time affected by Covid-19 |
| United States | 6-12  Working Days | 8-12  Working Days |
| United Kingdom | 6-10  Working Days | 6-10  Working Days |
| Germany | 6-10  Working Days | 8-12  Working Days |
| France | 6-10  Working Days | 6-10  Working Days |
| Italy | 6-10  Working Days | 8-12  Working Days |
| Spain | 6-10  Working Days | 8-12  Working Days |
| Belgium | 6-10  Working Days | 8-12  Working Days |
| Austria | 6-10  Working Days | 8-10  Working Days |
| South Africa | 6-8  Working Days | 15-20  Working Days |
| Cyprus | 8-12  Working Days | 8-12  Working Days |
| Poland | 6-10  Working Days | 8-12  Working Days |
| Australia | 6-10  Working Days | 10-15  Working Days |
| Canada | 8-15  Working Days | 10-15  Working Days |
| Netherlands | 6-10  Working Days | 6-10  Working Days |
| Sweden | 6-10  Working Days | 8-10  Working Days |
| Ireland | 6-10  Working Days | 10-15  Working Days |
| Greece | 8-12  Working Days | 10-15  Working Days |
| Bulgaria | 6-10  Working Days | 10-15  Working Days |
| Portugal | 6-10  Working Days | 8-12  Working Days |
| Hungary | 6-10  Working Days | 6-10  Working Days |
| Slovakia | 6-10  Working Days | 8-12  Working Days |
| Czech Republic | 6-10  Working Days | 6-10  Working Days |
| Romania | 6-10  Working Days | 8-12  Working Days |
| Finland | 6-10  Working Days | 6-10  Working Days |
| Denmark | 6-10  Working Days | 6-10  Working Days |
| Norway | 8-10  Working Days | 8-12  Working Days |
| Japan | 5- 8  Working Days | 5- 8  Working Days |
| Mexico | 8- 12  Working Days | 8- 12  Working Days |
| Singapore | 5- 8  Working Days | 5- 8  Working Days |
| Malaysia | 5- 8  Working Days | 5- 10  Working Days |
| Thailand | 7- 9  Working Days | 7- 10  Working Days |
| Vietnam? | 6- 8  Working Days | 6- 8  Working Days |
| Philippines | 6- 8  Working Days | 5- 10  Working Days |
| Columbia | 6- 8 Working Days | 11- 19  Working Days |
| Israel | 6- 8 Working Days | 6- 12  Working Days |
| Cyprus | 6- 8 Working Days | 8- 12 Working Days |
| Turkey | 6- 8 Working Days | 6- 10 Working Days |
| Chile | 6- 8 Working Days | 10- 17 Working Days |
| Korea | 4- 6 Working Days | 6- 10 Working Days |
| New Zealand | 8- 12 Working Days | 8- 15 Working Days |
| Brazil | 8- 15 Working Days | 15- 25 Working Days |
Returns Policy
We're pretty stringent with our quality control, but occasionally something might slip through the cracks. If your product is faulty, or we sent you an incorrect order by mistake, send it back to us within 30 days of delivery for a full refund (including shipping*).

See conditions and procedure in our Return Policy